Liberty Village Assisted Living is proud to be the first assisted living community to serve the Chillicothe area. This single-story community consists of 40 private resident rooms. Liberty Village boasts abundant common area amenities, a beautiful interior courtyard as well as walking areas.
You will experience and appreciate the comfortable, family atmosphere unlike any other assisted living community. Please contact us or call Sheila Blevins, Executive Director, at (740) 773-4630 (or option 3) to schedule a personal tour at your convenience.
The community is location just west of Chillicothe on Route 50 (Western Avenue). The adjacent neighborhood is primarily single family homes. The Chillicothe Senior Center and numerous dining and shopping establishments are nearby.
Liberty Village Makes Life Easier
At Liberty Village, an Abbington Assisted Living Community, we value the independence of our residents. No one wants to feel like a burden to their family. It adds stress for everyone. At our assisted living communities, the residents don't depend on their children for everything. Instead of worrying about eating habits, medication, and housekeeping, visits can be relaxing, happy. When residents have their family visit we want everyone to be stress free. That's what assisted living is all about. Now life can be enjoyed.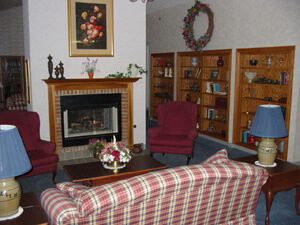 While residents don't have to depend on their families, they're not alone. Our trained staff are available 24 hours a day. Residents can get help with any daily activity. The caring staff members are always there to make life easier.
Liberty Village really feels like home. Fellow residents become friendly neighbors. Cozy fireplaces and parlors give character to the surroundings. And the private rooms have enough space for personal touches. It's not a hotel or a hospital. The room becomes your own. Your pictures and decorations are encouraged. It's not just a place to live, it's home.
There are no upcoming events.