Medication Administration and Management – Each Abbington assisted living community has partnered with a local pharmacy provider to offer a comprehensive pharmacy service including free consultation, labeling, packaging, and delivery. Abbington's Medication Administration Program combines the professional pharmacy service with on-site medication administration by our licensed nurses for our residents. You can relax and leave the hassle of managing medications behind.
Coordination of Services – Abbington Assisted Living Communities provide and coordinate wellness and health services to promote and maintain good health for our residents.  Abbington works with a third-party Nurse Practitioner group that is available for on-site appointments, wellness visits, and management of chronic conditions, billable to Medicare and/or most insurance carriers. This is a beneficial service for residents – please ask for more details if you are interested.
Some of the Wellness Services that we help coordinate include:
Medication Administration by on-site licensed nurses
Comprehensive Pharmacy Service with Free Packaging & Delivery
Approved Short-Term Skilled Services (via Home Health Agency)
Physical, Occupational and Speech Therapy Services (via Home Health Agency)
Resident Health Talks and Information
Blood Pressure Checks & Weight Measures
Exercise Programs
Fall & Risk Assessments
Mobile Lab and X-ray Services
On-Site Physician or Nurse Practitioner Visits
On-Site Podiatrist Visits
Oxygen and DME Consultation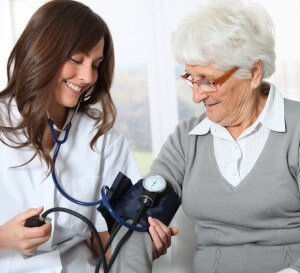 The Wellness Services list is not all-inclusive and may vary by location. Abbington's management team, nurses and resident care staff work closely with our Nurse Practitioner and home health partners to identify and coordinate health care services that each resident may need. We communicate with residents and families to decides what is best for each individual.  The health care provider for specific services is ultimately the resident's choice.