Welcome Home. Abbington's thoughtful design includes an abundance of physical amenities in a homey, comfortable atmosphere. Suites include a private bathroom, closet(s) and a kitchenette.
Abbington's one-story design has your comfort and safety in mind with easy access to all common areas and no hassle with elevators or stairs.
Spacious, comfortable, and tastefully furnished living areas:
Inviting lobby with fireplace.
Atrium with skylights (at most locations).
Large "neighborhood" parlors with fireplaces.
Elegant dining room.
Large activity and community room.
Fully equipped family kitchen area.
Library and beauty parlor.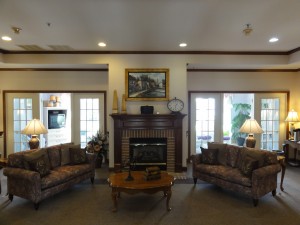 Abundant Physical Amenities and Grounds:
Emergency call response system in each suite and private bath and throughout the building common areas.
Full fire, smoke and sprinkler systems.
Large furnished outside enclosed courtyard.
Screened-in porches.
Walking paths.
All utilities including local telephone and basic cable television.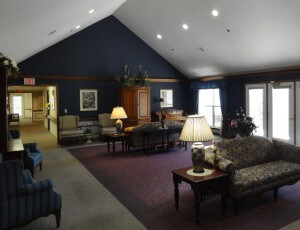 Our buildings are designed with comfort and security in mind. Our services are designed to promote good health – please be sure to check out our Health & Wellness Services page!